The process of septic installation in Mulberry should only be handled by an experienced professional.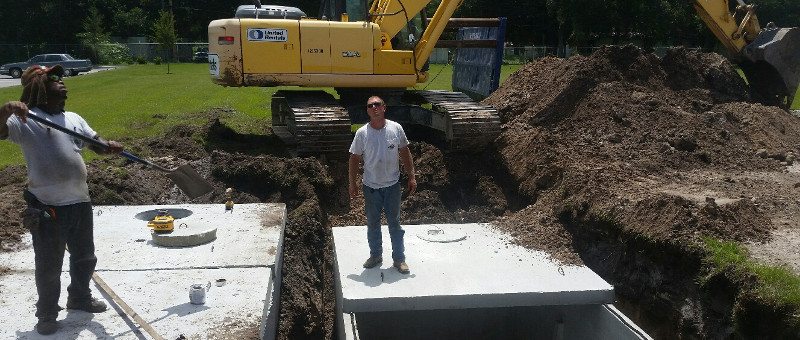 There are several reasons why you might be looking to add a septic system to your property, but the most common reason is that your home or business is located in a rural area and it can't connect to the nearest sewage processing facility. Septic installation is a great option if you are in this situation because a septic system acts as a self-contained processing plant, with pipes that lead from all drains in the structure into a large concrete tank that is buried in the ground. The size of the septic tank varies based on the size of the home or office and how many people will use it, as well as how much space is available on the property. The tank also has pipes that lead out of the tank and into the drain field. A drain field includes perforated pipes that allow clear liquid to go back into the ground.
There are several other components of a septic system that may be used. A grease trap sits near the kitchen sink and filters grease, fats, and oils so they don't clog the pipes or the tank. This is especially common in a commercial kitchen within a restaurant, since higher volumes of grease are produced. If your system isn't gravity fed, you may also need a pump that moves waste through the pipes and into the tank.
The process of septic installation should only be handled by an experienced professional. At Averett Septic Tank Co Inc., we have septic contractors who can handle septic installation and maintenance jobs in and around Mulberry, Florida. Give us a call to learn more about our septic installation services.

---
Here at Averett Septic Tank Co Inc. we provide only the highest quality septic installation to clients in Lakeland, Mulberry, Bartow, Winter Haven, Plant City, Auburndale, Haines City, Polk City and all of Polk County & Eastern Hillsborough, Florida!